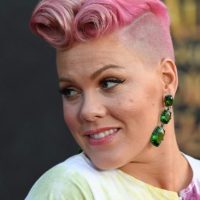 The movie is called Served like a Girl and it's about Female Veterans in the US and I had a hard time watching this without getting a little teary eyed.
Served Like A Girl is a documentary about the journey of a group of women veterans as they compete in the Ms. Veteran America competition. All the proceeds from the accompanying soundtrack will raise money for the female veteran-focused charity, Final Salute. You can watch the trailer below.
As for the music, it will be co-written by Linda Perry, former leader of 4 Non Blonde and songwriter who wrote songs like "Beautiful" and "Keeps Gettin' Better" for Aguilera, "Get The Party Started" for Pink, and co-written "What You Waiting For?" for Stefani. And now, she is working with those three again on this soundtrack. There will also be new music from Pat Benatar, Lykke Li and Lizzo.
Here's the playlist:
Pat Benatar — "Dancing Through The Wreckage"
Pink — "Halfway Gone"
Christina Aguilera — "America"
Gwen Stefani — "Medicine Man"
Natasha Bedingfield — "Hey Boy"
Chely Wright — "Shine A Light"
Lizzo — "Good As Hell"
Dorothy — "Naked Eye"
Beth Lowen — "Joyride"
Lykke Li — "End Of The Night"
Maya Heslov — "Fighter"
Willa Amai — "Scars"
Little Mix — "Salute"