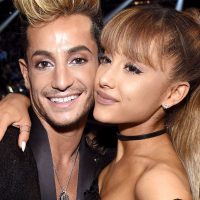 Ariana Grande has teamed up with her older brother, Frankie, and some other friends to cover Seasons of Love from the musical, Rent. Obviously, amazing vocals run in the family. Did you know Frankie could sing?
Check out the song below and let me know what you think!
In other Rent news, Rent Live will air on Fox on January 27th and it stars Vanessa Hudgens, Jordan Fisher, Kiersey Clemons, Brandon Victor Dixen, Brennin Hunt, Tinashe and Valentina.