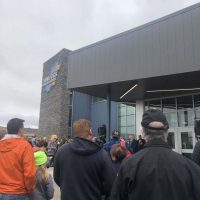 Peace River now has a multi-purpose facility to call its own.
The Baytex Energy Centre was officially opened on Saturday with the official ribbon cutting ceremony.
People packed the south end parking lot to hear from municipal politicians and donors about the town's new $26 million facility.
Among the dignitaries was Peace River Mayor Tom Tarpey, and he says the crowd energy was fantastic. "I thought we were going to watch an original-six game, or at least a Leafs-Habs game, it was a great turnout. We started in September of 2017 and it took about two years to build it and we are very proud of it."
Tarpey also told the crowd that the building was built without a single dollar of assistance from the provincial and federal governments. "It was all done with municipal money and contributions from a number of corporations from in and around the Town of Peace River. I certainly give a special thank you to our municipal partners: Northern Sunrise County, the County of Northern Lights, and the M.D. of Peace."
The building features an ice surface, a gym; a gymnasium equipped with a walking track and can be used for other indoor sports as well. On the upper level, there are concession booths, meeting rooms, and a playground for children as well.