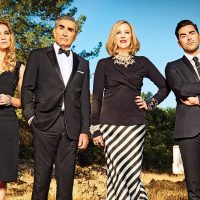 Fans of the Canadian made show Schitt's Creek received great news this morning when they announced the show had been renewed for a sixth season. But the news was bittersweet when the show's creators, Dan and Eugene Levy, used this as an opportunity to also announced that the sixth season will be their last.
Schitt's Creek tells the story of a wealthy family who suddenly finds themselves poor and living in the town they had once bought as a joke.
It quickly became a hit, a go-to for excellent GIFs and has received rave reviews from everyone who watched it.
The show is currently airing it's 5th season, the other 4 are available on Netflix.
View this post on Instagram