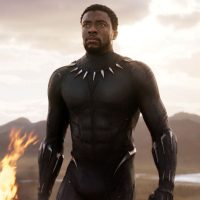 Black Panther has become the first superhero movie to receive an Oscar nomination for Best Picture. The film was nominated for seven Oscars overall, including Best Original Song and Best Original Score.
It was also the first superhero movie to earn a Golden Globes nomination for Best Drama.
Superhero films have been nominated and won, Academy Awards in technical categories like Best Sound and Visual Effects and in 2018, James Mangold and Michael Green were nominated in the Best Adapted Screenplay category for Logan.
Heath Ledger won a posthumous Oscar for Best Supporting Actor for his role as the Joker in The Dark Knight. Christopher Nolan's Batman series picked up eight nominations, but missed out on Best Picture. Meanwhile, Wonder Woman, despite it's extreme success, didn't receive any nominations; which shocked fans.
Black Panther made $1.3 billion worldwide including $700 million domestically, making it the biggest film of 2018 in the U.S. But not only was it a financial success, it was part of a cultural movement; empowering an entire generation of people of colour. The entire cast will tell you how meaningful it was for them to be a part of this film, and the recognition is well deserved.