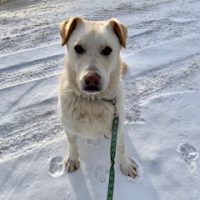 Meet Franco! He's a big friendly boy who has lots of energy! He's about a year old and is a Lab/Pyrenees mix! Franco has been at the shelter since September and has been patiently waiting for his forever home!
He gets along with most other dogs but shouldn't go to a home with any small animals like cats or rabbits due to his high prey drive. I've had the pleasure of walking him a few times recently and he walks well on a leash once he's calmed down from the initial excitement of going outside.
If you're interested in adopting Franco or any other animal currently up for adoption head over to the Peace Regional SPCA! They're open every day from 12-5!