Hello everybody! It's been a jam packed June so far and there is more to come for events this Canada Day long weekend! If your in the peace region you can follow the cruiser and I around to the following:
Friday
– School's Out For Summer FREE SWIM at Grimshaw's Outdoor Swimming Pool from 1-3:30pm!
-BBQ Fundraiser at Freson Brothers in Peace River for Glenmary's Basketball Team from 5-8!
Saturday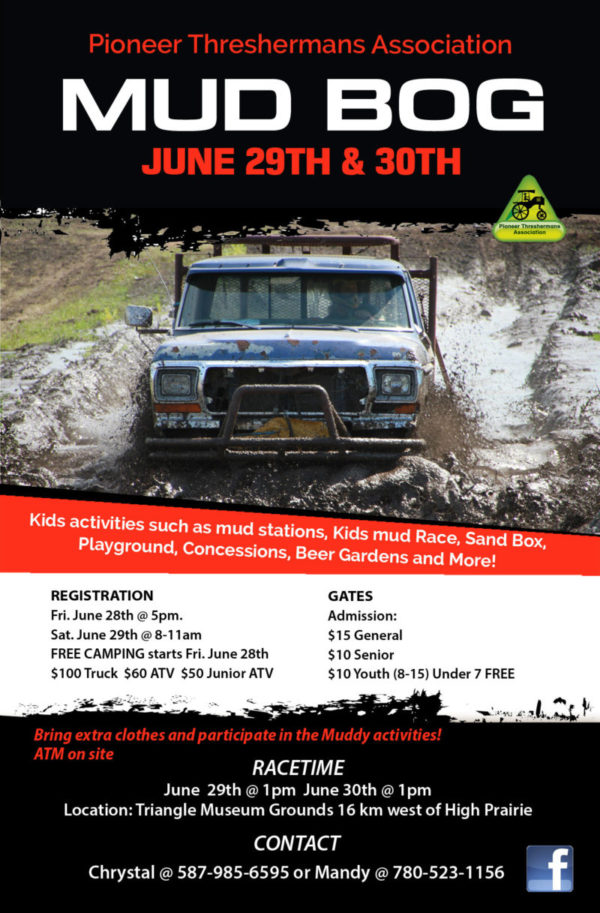 -Mud Bog at High Prairie's Triangle Museum Grounds starts at 1pm! This event is also on Sunday as well at the same time!
Sunday
-46th Annual Rendezvous & Outdoorsman Show in Teepee Creek!
…and of course I can't forget about Canada Day! Lots of events going on around the region. You can spot me at:
Grimshaw: Parade at 11:30am, events at the Mile Zero Multiplex from 12-3pm. There will be bouncy houses, zorb balls, hula hoop circus, cow patty bingo, bingo and much more!
Peace River: Flag raising at 10:30 at the museum, walking parade from the museum to Riverfront Park where the festivities will include live entertainment, balloon animals, magic tricks and inflatables until 2pm!
That will be all for a while for me though, I'm off to the Calgary Stampede for the first half of July and I will make sure to fill everybody in on how it's going down in "Cowtown". While I'm off on my adventure down south there will be some familiar voices taking over to go to a few events for me!
If you have an event you want the cruiser to come to, email me at cruiser@rivercountry.fm
Till next time! -Erika