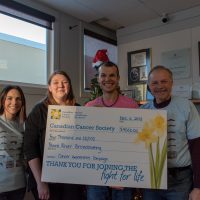 Today Peace River Broadcasting presented a $4,000 check to the Canadian Cancer Society after holding fundraisers in October and November.
Peace River Broadcasting has been selling t-shirts in partnership with businesses in the Peace Region to raise money and awareness for both breast cancer and prostate cancer. Breast cancer was the focus of attention in October, and in November, the fundraiser shifted focus onto prostate cancer.
The Canadian Cancer Society's Annual Giving Coordinator Amanda Bell accepted the check today on behalf of the organization.
"It's amazing how much impact every dollar makes," says Bell. "It goes towards the research for cancer, whether it's for breast cancer or prostate cancer. We also offer a lot of programs, so having a check made out to us is always a fantastic contribution to the organization. It's coming from such a good place because it affects everybody in some way. It's hard to find someone who hasn't been affected by it. Receiving community based checks is such an amazing part of our job, because we know how far the money can go and how much good it can do."
Peace River Broadcasting Sales Manager Jon Babiy expressed his gratitude to the businesses that participated, and those who donated to the fundraiser.
"I wanted to say thank you to all the businesses who partnered up with us in the past couple months, and all those who supported by purchasing a t-shirt, as well as donating, none of this would be possible without you."