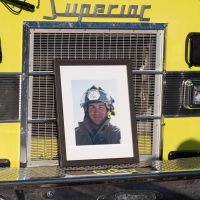 A gathering of both first responders from Peace River and beyond as well as members of the public assembled outside the Peace River Fire Hall today to honour PRFD Captain Martin Cooper.
A ramp ceremony took place at 2 pm which began with Peace River Fire Chief Tim Harris speaking about the life and contributions Cooper made to the community.
"He was a loving husband, father, son, brother and friend to so many. He embraced the brotherhood of the fire service, and that is witnessed here today by the numbers of first responders that you see here who honour him." –  Tim Harris
During his speech, Harris mentioned Cooper's achievements in his career serving the community of Peace River which included the Officer of the Year award, the award of merit, and he was also presented with the Chief's Coin for saving the life of a choking victim.
After Chief Harris's speech, two prayers followed. One of the prayers was led by the PRFD's Chaplain, and the other was the Firefighter's Prayer read by a junior firefighter.
Near the end of the ceremony, Cooper's service was honoured with three rings of a bell. Shortly after, first responders led a procession down Main Street and across the Heart River Bridge to the Catholic Conference Centre.
The outpour of support from the community and neighboring communities was made clear as the intersection of 101 Street and 100 Avenue was filled with both first responders and members of the public. Since Martin's passing, the Town of Peace River has said both the Town and the Peace River Fire Department have received support from the local residents and from people across the country.
Fire Chief Tim Harris will be attending Martin's funeral on Monday afternoon which will be in Old Perlican, Newfoundland.
"Rest in Peace, Brother, we'll take it from here." –  Tim Harris