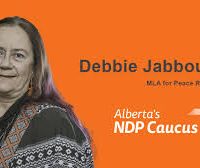 The current peace river MLA Debbie Jabbour will be running for a second term in the upcoming provincial election.
Jabbour made a statement on Facebook Wednesday saying she will be running to hold her position as MLA, Nominee contestant Justin Sharp is also running for the position which was announced on February 8th.
Jabbour says that while she doesn't know when the elction will be called, she wants to hear from the constituency about what they want from the next government.
The nomination meeting is set for Thursday February 28th.