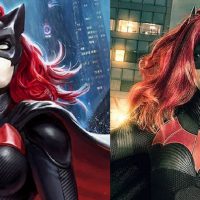 I think it looks amazing! The costume was designed by Oscar winning costume designer, Colleen Atwood  and she has worked on other DC shows like Arrow, The Flash and Supergirl.
Ruby Rose said in August that she is thrilled to play the character and her alter ego, Kate Kane in a few cross-over episodes this December within the DC Universe before getting her own TV series. There was also backlash about Ruby Rose being cast as the first lesbian superhero… which made her close her Twitter account.
Honestly… I think this is a good move by the CW Network and I am excited to see how she plays the character.
Batwoman has appeared in DC Comics since 1956 but back in 2006 the character was reintroduced as Kate Kane, a lesbian of Jewish descent.
What do you think?