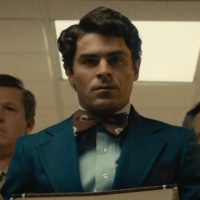 Before the premiere of Zac Efron's upcoming Ted Bundy biopic, Extremely Wicked, Shockingly Evil and Vile, at Sundance this weekend Voltage Pictures has released the film's first teaser trailer
The trailer opens with Bundy in 1969, when he first meets Elizabeth Kloepfer, played by Lily Collins. If you're into true crime, this trailer is sure to get you psyched for the films release. Unfortunately, it will still be a few months before the film is in theatres.
This is definitely the role of a lifetime for Zac Efron, and it seems he plays it perfectly.
Trailer Contains Adult material. It's a movie about a serial killer.