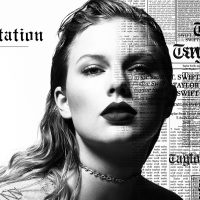 The Old Kelsey can't come to the phone right now. Why? Because she's listening to Reputation on repeat.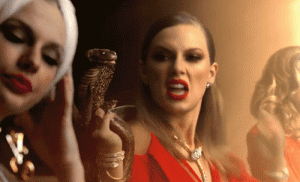 Taylor Swift's much anticipated new album Reputation dropped TODAY! I've listened to it in it's entirety about 5 times today and here's what I think of each individual song.
…Ready For It?
This was the second single released from the album so I had a lot of time to let it simmer. I definitely thought this was a cool song, very edgy. I'm not obsessed with it but the first time I heard it I wasn't like "WTF". It makes references to how she forgets all of the guys she used to be with because of who she's with now soo…that's obvious. It's kind of like saying, "let's just see how this turns out". It is a little repetitive. Very cool music video. I think that The robotic Taylor represents like Taylor's old self and then the hooded Taylor has been training her to fight back, and that's why when Robot Taylor breaks free, Hooded Taylor looks at her with such pride. Not sure what that has to do with the song though as it seems to be about a relationship. Maybe it's not so much a relationship with a boy like we're used to but Taylor's relationship with herself. I dunno, let's not get too philosophical.
2. End Game (Ft Ed Sheeran and Future)
So this song seems to be able starting a relationship with someone and saying "Hey, yeah I have a reputation but you have one too so…let's hang". I think that Future sounds awesome on this track, there are some parts of the song where I don't think Taylor sounds her best. It's not my fav song on the album but it's pretty strong.
3. I Did Something Bad
This song kind of turns Taylor around into being the Player in the situation. Playing innocent when really she's not as naive as she seems. It makes reference to guys dropping her name after a breakup. There's a verse about "…burning witches even if you aren't one", which is her way of saying, 'Hey I'm not the bad guy here but if you want to come after me, burn me'. I feel like parts of this song may be written in sarcasm, playing up the rumors and owning them much like she did with Blank Space, kind of making a joke of it.
4. Don't Blame Me
Love, love, LOVE this track! It's so sultry and soulful, it's SEXY and edgy. The song is very self explanatory, there is no hidden message here. Saying that she'd so anything for her "baby" and that anything she does in the name of love can't be blamed on her. Which…can be related to any crazy damn thing she's done in a relationship.
5. Delicate
This song opens with a line about how her reputation has never been worse so he must like her for her. This would be making reference to meeting her most recent (and current) boyfriend, British actor Joe Alwyn. They started dating in secret right in the middle of some of Taylor's biggest drama. My best guess is that Delicate is a reference to keeping it in secret, there's numerous lines asking if it's cool  if she says "all that", so it's kind of a "where's the line in this relationship" sort of thing. Very much the beginnings of their relationship. This a slow vibe, I like it.
6. Look What You Made Me Do
The lead single from the album. I definitely didn't love it the first time I heard it. It has grown on me since then. I just kind of thought, "if this is her lead single, how bad is the rest of the album!?" but now that I've heard the rest, this song does make the most sense to release first as it really depicts the whole point of Reputation. Makes very obvious references to her feud with Kanye West. You can read more about it here. Not my favourite song on the album, but I do understand why it was chosen as lead single. It is exactly what people expected from the album, to address her feuds. I love the video! Especially the end with all the different Taylors.
7. So It Goes
This is another song with a little more edge to it. I don't really have any strong feelings about this one. The lyrics definitely have  a lot more sex appeal than Taylor typically has but I also think that the lyrics that suggest sex are much more about emotional damage being done to each other in the relationship. I don't like when the music stops and Taylor counts to three, I could do without that.
8. Gorgeous
The third single off the album, this is one of my favourites. I think it's a fun song and I like the lyrics. She doesn't try to rap which is always a win. And I think it's super relatable. We've all been so intimidated by someone's good looks that we can't properly function right?
9. Getaway Car
This is another one of my favourite songs on the album. I think it's lyrically really creative and I like the music. I think it's about her relationship with Tom Hiddleston cause it kind of depicts a relationship that starts strong and exciting and then fizzles. Her relationship with Tom didn't last long. There's also a line, "he poisoned the well" which may suggest all the drama with Calvin Harris made the new relationship more difficult.
10. King Of My Heart
I expected to hate this song because I think the title is just dumb. But it's not bad. It's obviously about the beginning of the relationship with Joe Alwyn. Again, Taylor is saying "this is the one she's been waiting for", we've heard that from her before. Maybe this time it will stick. This song makes reference to how Taylor's previous boyfriend's may have a higher net worth than her current Beau but he's still the 'King Of Her Heart'.
11. Dancing With Our Hands Tied
I like the beat of this song but I really don't have any strong feelings about it otherwise.This song seems to be able a rough patch in a relationship. To me, Dancing With Our Hands Tied makes reference to trying to make a relationship work while keeping it secret, like she did with Joe Alwyn.
12. Dress
This song is incredibly sexy. The hook just says, "Only bought this dress so you could take it off" and "carve your name into my bedpost" which obviously a reference to Taylor extensive dating history. "Don't want you as a best friend", pretty obvious lyrics…and sexy…sexy lyrics.
13. This Is Why We Can't Have Nice Things
"Friends don't try to trick you/Get you on the phone and mind-twist you…./But I'm not the only friend you've lost lately/If only you weren't so shady"
This song also makes reference to making up after some drama and then being screwed again. This is obviously about Kanye again. They had their little feud about the incident at the VMAs and then they made up and then Kanye got her again when he released Famous. Y'all know the story. I really like this one, I think it's funny and clever and I like the music. She even makes reference to how Jay-Z is also no longer friends with Kanye.
14. Call It What You Want
The fourth single from the album, another one about Joe Alwyn! I really like this one. Simply, it makes reference to how her life got so crazy and so drama filled and then no one heard from her for a while but it was because she was hiding out with her hot boo who likes her despite all the rumors.
15. New Year's Day
A lot of fans thought that Taylor ended the record with this song to suggest that she's engaged which I don't see in the slightest. This song is really slow. It's literally just about cleaning up after a party but saying she could do it with him forever. I think it might suggest that a New Years Eve party was how her relationship with Joe Alwyn started because I THINK that the murmurs started about this relationship back in January. I don't love this, I don't hate it…but I don't LOVE it.
Anyway, that's my lazy review. Overall,