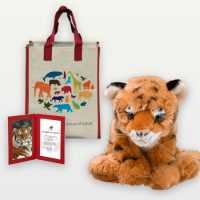 Hey, friends! The Holiday season is upon us which means you probably have a lot of shopping to do! One of the things I consider when I'm gift shopping is, "what does this do beyond being a material belonging?". Does it support a local business? Does it support a charity? I have two organizations that I really love to support when I'm gift shopping.
At the World Wildlife Fund, you can 'adopt an animal'. Not only will they send you an adoption certificate but they'll also send you a stuffed animal of whatever you adopted. They also send you a tax receipt, and your money will go towards preserving habitats and endangered species. That's pretty cool if you ask me!
Another really cool organization is Sevenly. If you head over to the Sevenly website, you'll see a massive collection of apparel like t-shirts, sweaters, hats, mugs and other accessories. There are a ton of different collections that support various organizations and proceeds from your purchase will support that organization! So you can buy a shirt that plants a tree, or a hat that will donate to an animal shelter!
When you purchase a S'well water bottle, not only will you be reducing the amount of plastic littering the planet, but S'well also helps to provide clean drinking water to communities around the world.
This Christmas, give a gift that gives back!
Do you know any other cool organizations to purchase gifts from? Leave them in the comments!