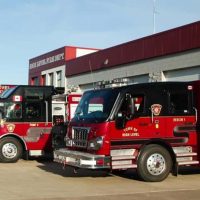 HIGH LEVEL — A High Level man is recovering after suffering from smoke inhalation during an apartment fire last week.
On Thursday, February 28th at approximately 6:45 in the evening, the High Level Fire Department received a 911 call for a possible structural fire at an apartment on 105th avenue. HLFD would arrive at the three story apartment soon after, which would have visible smoke coming from the first floor.
The department notes that upon their arrival approximately thirty occupants of the apartment building would be seen evacuating, as the HLFD would make their ways into the building.
Firefighters would then locate the source of the smoke in the apartment of a male, who they would discover passed out on his bed.
"It was a food related fire," said Fire Chief Rodney Schmidt on Monday. "It created so much smoke that there was no visibility in the apartment."
High Level Firefighters would then proceed to remove the man from the apartment, where he would then be delivered to Emergency Medical Services and then taken to hospital. The department also notes that residents of the building were able to return to their homes by 8:15 that evening.
Schmidt also said that the male treated for smoke inhalation would be released that night.
"Once we got him out of the building we were able to wake him up," said Schmidt. "After that we were able to walk him over to EMS."
This would be the fourth structural fire of the year in High Level, which puts the town on pace to match the amount of structural fires from a year prior by the year's end. 2018 marked the busiest year on record for the HLFD, with many areas seeing an increase in response numbers with the exception of Medical, which decreased in 2018 by 34 calls.
HLFD members responded to a total of 441 calls in 2018.
–Alex Rodgerson, Trending 55