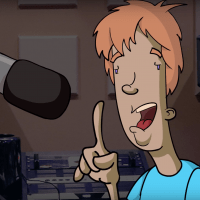 Brian (our Digital Media Manager) recently shared this link with me. I think it's absolutely hilarious and I love it to death. It's a little radio animation he crafted up in his spare time. If you listen closely, you may be able to recognize somebody's voice… (hint, it's mine).
I'm super stoked that Brian shared this with me the other day. I'm really looking forward to having lots of fun with this character, Eddy Gritowski! According to Brian, "not to be confused with the Grotowski method for acting".
I'm more of a Stanislavski guy myself, Bryan 😉
Check it out below, and let me know what you think!