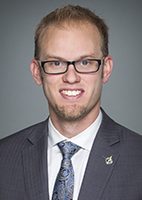 The Peace River-Westlock Member of Parliament is looking to win a second term. Arnold Viersen, who represents the Progressive Conservative Party says as he tours the riding, the main theme on the minds of voters is pipelines.
"Our National Energy Corridor Program would be outside of other projects, such as the energy east pipeline, we would design corridors across the country where companies can come and build pipelines, and we would have the environmental assessments and indigenous consultations done long before companies show up to build."
Viersen also says his party would repeal the carbon tax as well. When asked about transfer payments to other provinces under the equalization program, Veirsen said while he would like to see changes to the program, there is little the federal government can do.
"I think the program needs changing but that would require re-opening the constitution and I don't feel anyone is ready to open the constitution at this time."
Viersen also encourages everyone to vote as well. "We are lucky to live in the greatest country in the world, and many people across the world have died, or would die, for an opportunity to vote."
Other candidates campaigning to become our local M.P. are: Leslie Penny of the Liberal Party, Peoples Party of Canada is represented by John Schrader, Peter Nygaard of the Green Party, and Jennifer Villeburn is representing the N.D.P.
To find the voting station closest to your home, click here.
Kenny Trenton: Trending 55 Newsroom