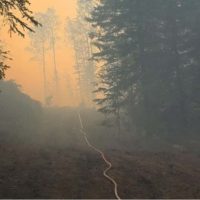 The wildfire which resulted in the mandatory evacuation of Indian Cabins has seen an extreme increase in fire activity over the last several days.
While it's currently noted by wildlife officials that the southern perimeter of the fire west of the highway is holding well, the fire has jumped up to over 75,000 hectares in size after being recorded at just over 47,000 hectares on Sunday night.
This would result in an evacuation order being issued for Indian Cabins on Monday morning, as the fire's perimetre is now dangerously close to the community.
On the southern side of the blaze, east of the highway, dozers have reached the perimeter and have started establishing dozer guard. Fireguard continues to be built along the west side of the northern excursion, on the east side of the Hay River.
Highway 58 north to the Northwest Territories is still open at this time.
–Alex Rodgerson, Trending 55 News