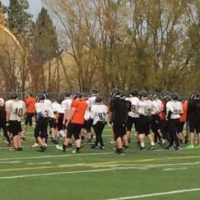 CALGARY — Two local high school football players competed in the first ever Junior Bowl last weekend.
The showcase of the provinces' top football players under the age of sixteen took place at Hellard Field in Calgary, which would be the first ever addition of the newly revamped all-star game.
In previous years the Junior Bowl consisted of only grade nines, while the game has since been adjusted to allow for grade tens under the age of sixteen to compete. Locally, two players stood out as part of Team North.
Team South would end up squeaking passed Team North by a final of 14-13 at Monday's Junior Bowl, after a late 17-yard field goal by Kohl Windsor of the Calgary Colts.
High Prairie Renegades defensive back Raiden Duchesneau took part in the Inaugural Junior Bowl, while linebacker Braxton Rudneski of the Peace River Prospectors also made the cut. Rudneski is originally a product of Nampa.
While Team North would fall in the game to Team South, the two local athletes would play a strong game as part of a defensive core that would only allow 82-yards rushing on the afternoon.
Braxton Rudneski, originally born in Nampa, would finish the game with one tackle for a loss of two yards, while he and Duchesneau would help in turning the ball over three times on the day. Rudneski also plays running back for Peace River of the Mighty Peace Football League.
Last season, Rudneski and the Peace River Prospectors would come just one game shy of the championship after falling to the Grande Prairie Broncos. The Broncos would also go on to win the Tier 3 Provincial Championship.
–Alex Rodgerson, Trending 55 News