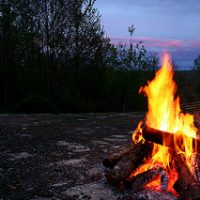 Even though it's still winter outside starting Friday anyone that wishes to have a fire will need to have a permit in order to do so. The season used to start April 1st but due to the recent dry weather in 2017 it was moved to March.
Cooking fires on your property are still permitted however anything larger will need to have a permit. For a list of locations you can visit to obtain a permit and their phone numbers you can click here.
If a fire ban is in effect all permits are considered suspended until the ban is lifted.
The season runs from March 1st to October 31st.