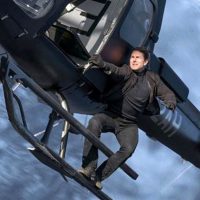 This movie looks absolutely fantastic! The action is going to be insane. It opens on Friday, July 27th.
Tom Cruise still does all his own stunts. During filming he broke his ankle jumping from one building to another!
He finished the scene… and it's actually in the movie!
Below you can check out an interview on Jimmy Fallon, another from earlier in the year with insane footage of the break,  a trailer, and see them have lots of fun in Mad Lib Theater.