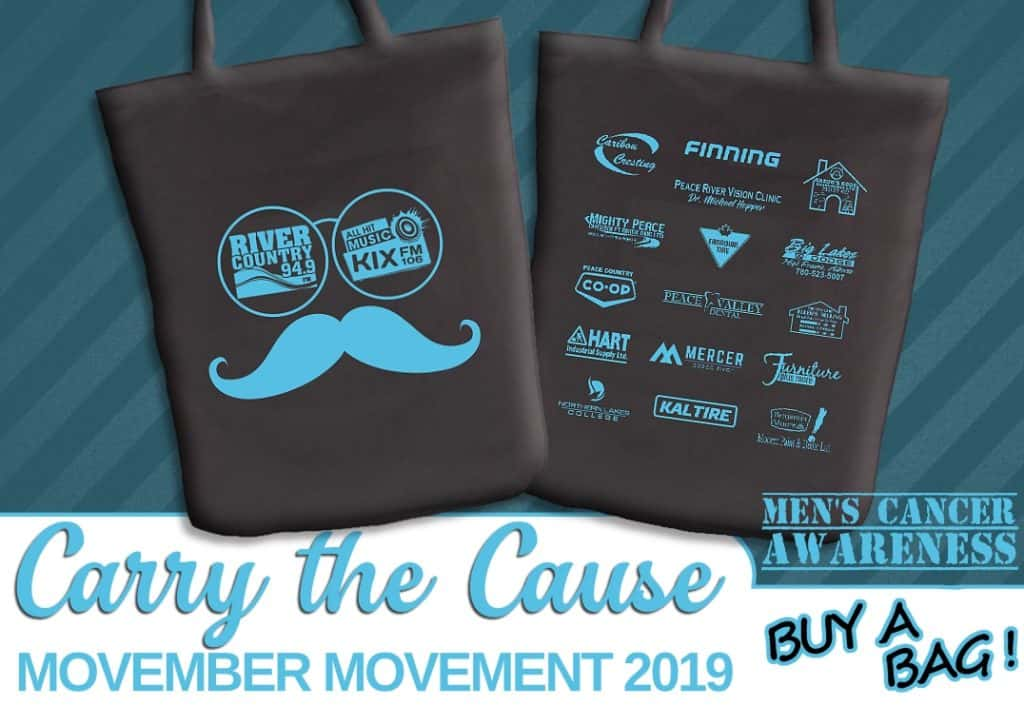 November 1 kicks off our Movember Movement, and month two of Carry the Cause.
Movember is all about bringing awareness to men's health issues.
We will be focusing on the most common cancer among men and third leading cause of death from cancer in men in Canada; prostate cancer.
With this, fundraising efforts for the Canadian Cancer Society continue.
With the help of our partners in promotion, we will be giving away commemorative reusable shopping bags unique for November for a $10 donation; 100% of the proceeds will be donated to the Canadian Cancer Society. Additionally, every donation gains an entry for an overnight stay at the entire Wild Rose Guest House in Peace River.
Shopping bags will be available at the radio station throughout the month as well as at Big Lakes Dodge in High Prairie and Ellen's Selling at the Royal LePage Realty office in Fairview.
In addition, we'll broadcast our KIX Drive Show – 2pm to 6pm – from Canadian Tire (Peace River) on November 1st, and Peace Country Co-op (Grimshaw) on November 22nd, while taking donations for the shopping bags and giving away swag from our partners in promotion.
Our gracious partners in promotion are …
Caribou Cresting
Furniture Plus More
Northern Lakes College
Finning-Peace River
Modern Paint & Decor
Razor's Edge Construction
Big Lakes Dodge
Ellen's Selling with Royal LePage Fairview
Peace River Vision Clinic-Dr. Michael Hopper
Peace Valley Dental
Mighty Peace GMC
Peace Country Co-op
Mercer Peace River Pulp
Hart Industrial Supply
Kal Tire-Peace River
Canadian Tire-Peace River
We're stronger together. Thank you for Carrying the Cause.