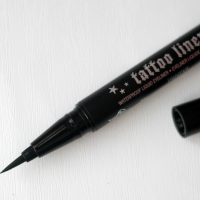 I am a makeup enthusiast, to the extreme. And my look regularly includes a sharp, winged liner. Something that people often ask me is, "how?". Y'all, it took me a hella long time to get really good at winged liner but it all starts with the right liner.
I prefer to use pen style liquid liners for doing a wing and the reason is that you get far more control over the product. You also want a pointed, felt tip; it should also have JUST enough flexibility to curve to your eye lid while still staying in shape to give you perfect precision.
I highly recommend the Tattoo Liner from Kat Von D Beauty or the Sex Kitten Liquid Liner from Tarte Cosmetics. Both are vegan and cruelty free, waterproof and smudge proof. Good quality products make all the difference in making an amateur look like a pro when it comes to eye liner and honestly, no drug store brand can even compare in my opinion.