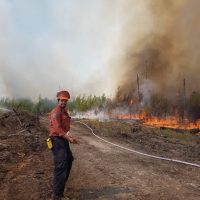 It's been over two weeks since the Paddle Prairie Metis Settlement got evacuated because of the wildfires in Northern Alberta. Initially, the settlement was under a voluntary evacuation due to health concerns from all the smoke in the air. Fast forward a couple of days later, the Settlement is under a full evacuation order. Mandatory! All because of the Chuckegg Creek Fire.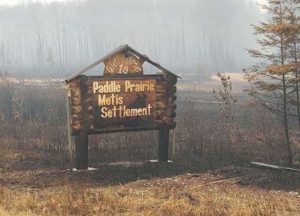 This breaks my heart. Since the evacuation, sixteen homes have been lost to the Chuckegg Creek Fire within the settlement. Sixteen homes that kids have grown up in. Homes that have shared joy, sadness, laughed, loved and everything in between.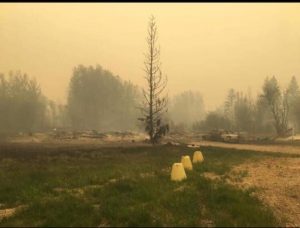 Helen Cardinal's home is among the sixteen that have gone up in flames. Her story is incredibly powerful. Not only did she lose the home that raised her kids, brought together the family, but the home her late husband built himself. To make matters worse, she not only lost her home in the fire. Her late husband's grave site was also destroyed.
Interview With Helen Cardinal – Paddle Prairie Metis Settlement
     Above is the link to the interview I shared on air at KIX FM in Peace River, Alberta on Wednesday, June 5th, 2019. Please take the time to check it out, it's well worth the listen. I've also included the link to Paddle Prairie Metis Settlement's Facebook Page. They have a relief fund set up for those who have lost their homes to the Chuckegg Creek Fire. Please, check it out, it's right below (the Facebook post). If you can make any donations at all, that would mean the absolute world to me and more so the sixteen families who have lost it all. Please do it for them.
Also, a special thank you to all fire crews who have worked tirelessly, day in and day out to make sure the settlement remains as in tact as possible. Check out some of these photos!
Images courtesy of: Helen Cardinal