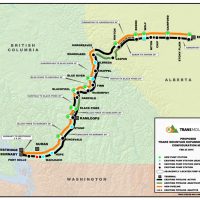 The National Energy Board (NEB) has finished it's report on the Trans Mountain Pipeline and has concluded it is in the interest of Canadians and should move forward. The NEB was ordered to re-assess the $7.4-billion dollar project after the federal court of appeals said they failed to look at potential environmental damage as well as the effects on the killer whale population in Vancouver and Burnaby.
The NEB's report said the project could cause significant environmental effects on the whale population and even though a spill isn't likely the effects of one would be significant.
The NEB made 16 recommendations for the pipeline however, two of which include increasing spill responses to marine spills as well as reducing emissions from any marine vessels used.
Once Completed the pipeline will triple oil traffic between Edmonton and Burnaby.
The report starts a 90 day clock for the cabinet to decide if the project should move forward however experts say it will likely take longer than expected.