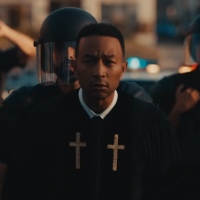 John Legend released a powerful new song over the weekend, Preach is available now. He also appeared on the Ellen show today for the debut live performance on the new song.
On the YouTube page for the official video, you can donate to FreeAmerica through the Social Impact Fund. The description reads, "FREEAMERICA exists to amplify the voices of individuals impacted by the criminal justice system and those who are working to change it. By challenging stereotypes, breaking down barriers, and uplifting solutions, we are helping to end mass incarceration and invest in just, equitable, and thriving communities across the United States."
Check out that live performance and the incredible music video below.