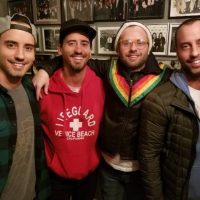 Today we got new music from The Moffatts, a Canadian group composed of four brothers from BC. You probably remember them from their multiple hits in the 90s. The group hasn't made new music or toured together for 18 years and that's all about to change with a new single, new album and tour in 2018!
Here's the title track and first single from the album, Secrets.
I'm on the fence about it. It's not awful, it's kind of a blend between modern music and cliche boy band. I would have liked for their first single to be more upbeat to kind of bring back that nostalgia as we go into the new music.
What do you think?