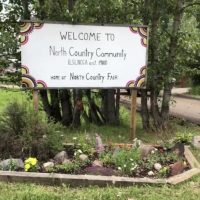 If you didn't go to the North Country Fair, you missed out. The festival itself was really unique. There were vendors, activities, camping, even a child play area with a park and everything! It even had its own stage!
Speaking of music… need I say more? Four stages scattered among the woods, playing from morning (early afternoon) to well into tomorrow morning (past midnight), the North Country Fair is the place to be to catch some sweet sounds.
As soon as I got to the fair, I headed for the Main Stage, but it didn't take long for me to get distracted! Before even making it to the Main Stage, I was drawn to something on the right, which led me to catch the tail end of this band's performance, K-Riz and The HonorRoll Music Collective. (Some members pictured above).
I got to chat with them after their show! Check it out:
Not only did I get to chat with K-Riz and The HonorRoll Music Collective… you remember Mob Bounce? Indigenous EDm/Hip-Hop duo from my last post? Oh yeah! Caught them at the Fair as well.
In case you haven't checked out my last post yet, you should probably check out my last post! I don't know how many more times I can link my last post in blue writing, so if you wanna know a bit more about Mob Bounce and all the cool social justice fronts they stand on and the youth workshop they've been running… you may wanna check out my last post!
I finally got the chance to chat with them! It was super sick, check it out:
What did you like most about the North Country Fair?