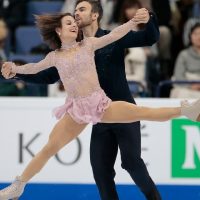 Olympic figure skater Meagan Duhamel of Canada adopted a South Korean dog who was supposed to be raised on a Korean dog meat farm.
An organization called Free Korean Dogs arranges adoptions between South Korea and the US and Canada. Moo-tae was rescued from a farm as a puppy and was driven to meet Duhamel, who was in Pyeongchang last year for in a test run for the Olympics.
Duhamel has volunteered to fly back to Montreal with another dog after the Olympics and encourages her fellow athletes to volunteer as well.