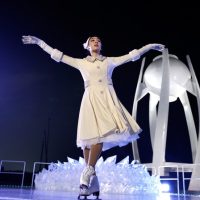 It was 8 years ago when Yuna Kim stole the hearts of the world with her legendary performance that won her the gold at the Vancouver Olympics. I remember being dazzled by her amazing talent while I watched live from Victoria, BC.
She won silver in Sochi with another superb performance but was unable to beat Russia's Adelina Sotnikova. Many thinking that she was robbed and it led to two million people signing a petition. She has broken the world record in figure skating 11 times! (She is incredible!)
During the Olympic Opening Ceremonies, She won hearts again by lighting the Olympic Flame. She was on an ice rink at the top of the stadium in ice skates! It was incredibly beautiful!
김연아 성화 점화 꼭 좀 봐주세요 너무 아름다운 사람 pic.twitter.com/GF2lyVyML7

— 진배 (@firstsurnamebae) February 9, 2018
ALL HAIL QUEEN YUNA!!!