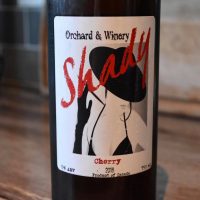 Hello wine lovers of the Peace Country! I have a new flavour from Shady Orchard and Winery to share with you! I do not claim to be an expert when it comes to wine but I will try my best!
So far, most of the Shady Orchard wines have been for those of us who like a sweet wine; with the exception of the plum which was on the drier side. The cherry wine from Shady Orchard and Winery is aromatic, it's sweet as it hits your lips but has a drier after taste when compared to some of the other flavors. I find that the Saskatoon and Raspberry flavor is like that as well; initially sweet but dry after taste/feel. I could even understand if some people might describe this one as having a slight tartness; but in a totally amazing, delicious way.
Shady Orchard and Winery in High Prairie is the proud sponsor of the Night Cap on KIX FM. Pick up your bottle at the High Prairie, Mclennan or Falher Liquor stores and at Rum Runners in Grimshaw! Or stop by the winery during their business hours. Like them on Facebook and enjoy responsibly.