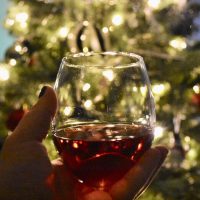 Hey Friends! I have another new flavour from Shady Orchard and Winery to share with you. A perfect flavour for the holidays; Cranberry and Raspberry.
While I wouldn't call this  a dry wine, it's definitely not nearly as sweet as many of the other flavours. The tart flavour of the cranberries will be what you initially taste.  The raspberries make for a delicious, berry after taste. This wine is the perfect blend for your holiday meals, or just for easy sipping all year round! This would make an amazing Christmas Sangria or a festive spritzer! That's an excellent idea, Kelsey. Thank you, Kelsey.
Shady Orchard and Winery in High Prairie is the proud sponsor of the Night Cap on KIX FM. Shady Orchard Wine is available at liquor stores all over the regions so 'Like' them on Facebook to find a bottle near you! Or stop by the winery during their business hours. Enjoy responsibly.