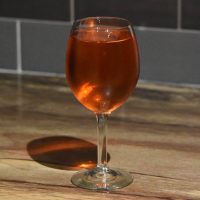 Hey Friends! I have another new flavour from Shady Orchard and Winery to share with you!
So far, most of the Shady Orchard wines have been for those of us who like a sweet wine; with the exception of the plum which was on the drier side. They've been working and experimenting with making their delicious fruit wines a little drier and out of that experimentation came Summer Berry. Summer Berry contains raspberries, strawberries and saskatoon berries so it's very similar to Mixed Berry but without the blueberries. I really, really enjoyed this one. It has a really great burst of true berry flavour. It starts off sweet but it definitely has a drier after taste which is something I also found with the new Cherry flavour. I would say this is definitely one I will come back to to enjoy time and time again.
Shady Orchard and Winery in High Prairie is the proud sponsor of the Night Cap on KIX FM. Pick up your bottle at the High Prairie, Mclennan or Falher Liquor stores and at Rum Runners in Grimshaw! Or stop by the winery during their business hours. Like them on Facebook and enjoy responsibly.