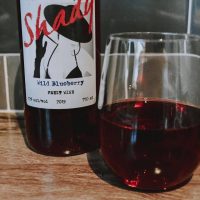 Hey Friends! Another new flavour from Shady Orchard and Winery but before I get started on that I want to congratulate the winery on a fantastic first year in business (crowd screams).
The new flavour is Wild Blueberry. This wine lingers perfectly between sweet and dry. Super flavourful and aromatic; I think blueberries have quickly become one of my favourite flavour notes in wine! It is perfectly smooth. Now this is an incredibly sophisticated wine review; you know when you take too big of a sip and it makes you kind of shake your head because it's a little strong? Not a problem with this wine! It is really enjoyable on it's own but it would also make a fantastic sangria.
Like Shady Orchard and Winery on Facebook for info on where to pick up a bottle and please enjoy responsibly.