Aislene Shewfelt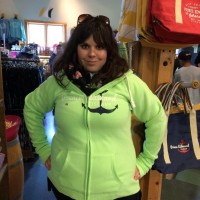 Listen to Aislene! Monday through Friday on KIX Mid Days from 10am-2pm. Aislene is also our Promotions Director! If you need something promoted on our amazing small town stations – just drop her a line!
Born in Nova Scotia, she grew up as an army brat until her parents settled in Hamilton, Ontario. Aislene joined the Navy, has sailed on the HMCS Vancouver, studied radio in Halifax, got left behind by a bus in Scotland, drank margaritas in Rome, rode 'horsies' in Chicago, has fallen off a stage in Montreal and has driven across Canada and the US a few times.
In her spare time, she hosts a podcast about the TV show, Outlander called 'The Outlander Sassenach Podcast.'  It's available on iTunes and Podomatic.
Loves: Disney, Time Travel, History, Animals, Bodice Rippers, Pride and Prejudice, Anime, Broadway Musicals, Mindy Kaling, Great Big Sea, Stompin' Tom Connors, Japanese and Italian cuisine.
More from Aislene

What do you think of the song and the music video? She knows to make a catchy song… I love it!
Continue Reading »