Aislene Shewfelt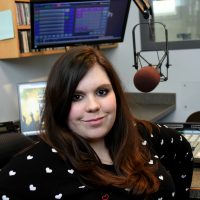 Listen to Aislene! Monday through Friday on the KIX FM midday show.
Born in Nova Scotia, she grew up as an army brat until her parents settled in Hamilton, Ontario. Aislene joined the Navy, has sailed on the HMCS Vancouver in Victoria, studied radio in Halifax, got left behind by a bus in Scotland, drank margaritas in Rome, rode 'horsies' in Chicago, has fallen off a stage in Montreal. She's driven across Canada and the US more than a few times
Loves: Cats, Dogs, Disney, Time Travel, History, Tigers, Hamilton Ti-Cats, Pride and Prejudice, Anime, Broadway Musicals, Mindy Kaling, Taylor Swift, Great Big Sea, Stompin' Tom Connors, David Bowie, Japanese, Korean and Italian cuisine.
More from Aislene

We first saw Puppet Ed Sheeran back in 2014 with his music video, Sing… This music video is completely with Puppets… except for the few real people. And a balloon lady that Ed Sheeran is in love
Continue Reading »