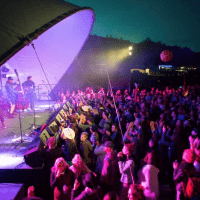 The North Country Fair officially kicks off today, and it just so happens to be National Aboriginal Day! In honour of that, I've compiled a collection of some sweet Metis/Aboriginal talent playing the Fair!
Starting with Peace Region's very own Celeigh Cardinal. Celeigh (pronounced kay-lee) is a multi award winning, multi faceted Metis singer/songwriter. Did you know that she's also a radio host, AND the first Indigenous member of the In Crowd (Edmonton's Arts Column)? Super cool.
Celeigh's music can best be described as soulful and heartfelt, with traces of old time blues and jazz. She is surely an act not to miss at the festival!
Celeigh Cardinal showtimes:
Saturday:
Main Stage: 6:45pm
Influenced by Hip Hop and EDM, Mob Bounce is an Indigenous duo made up of Heebz The Earth Child and The Northwest Kid. Their sound delves into spirituality, social justice and the connection to Mother Earth. Since the release of their first mixtape, "Mix Blood Mixtape" the duo has been focused on creating social and environmental awareness through the arts. Not only are they active on social front fronts, the duo also runs a youth workshop called "Hip Hop and the Sacred Space." It's an opportunity for youth to explore their cultural identity and create their own Sacred Space.
Mob Bounce showtimes:
Friday After Midnight:
Shady Grove Stage: 1:30am
Saturday:
Shady Grove Stage: 5:30pm
Finally, a man who needs no introduction but we'll give him one anyway… you've definitely heard his music in films and TV shows. He's shared the stage with a whole variety of artists from Run DMC to The Guess Who. He's award winning, 24x award nominated, social advocate, mighty and Metis from Edmonton… he is, Rellik!
Rellik showtimes:
Sunday:
Main Stage: 9pm
Who are you most excited to see at the fest?