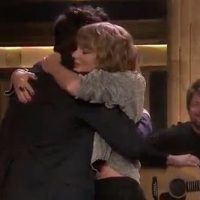 Last night was Jimmy Fallon's first night back at the Tonight Show since the death of his mother. He told a story about her squeezing his hand.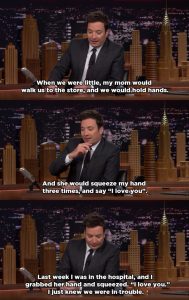 Taylor Swift performed on the show, and 'New Year's Day' just happens to have a lyric about squeezing [her] hand. It brought up a lot of emotions for the crew.
Hearing this story kind of put the lyrics of this song into a new perspective.
"Hold onto the memories, they will hold onto you. And I will hold onto you."
Read a Twitter thread from The Tonight Show producer and watch Taylor's performance below.
The story about his mom squeezing his hand 3 times to say "I love you" when he was a kid, and then him squeezing her hand in the hospital – he hadn't told any of us that story… More on that in a second.

— Mike DiCenzo (@mikedicenzo) November 14, 2017
First, a quick word about Taylor Swift. She was not scheduled to do our show today. But we wanted something special for this first show back, so we asked her on a complete whim, since she had been in town doing SNL. She said yes with zero hesitation.

— Mike DiCenzo (@mikedicenzo) November 14, 2017
She sang "New Year's Day." No one had heard it. Suddenly she sings the line, "Squeeze my hand 3 times in the back of the taxi." I nearly gasped. Tears. I think everyone in the audience started sobbing.

— Mike DiCenzo (@mikedicenzo) November 14, 2017
I could see Jimmy silhouetted at his desk dabbing his eyes with a tissue. We all lost it. It was a beautiful coincidence in a beautiful performance. "Hold on to your memories, they will hold on to you," Taylor sang.

— Mike DiCenzo (@mikedicenzo) November 14, 2017
That hug between Jimmy and Taylor after the song was 100% real emotion. Whatever you think of Taylor, she did something beautiful for Jimmy and our show today, and we're forever grateful.

— Mike DiCenzo (@mikedicenzo) November 14, 2017