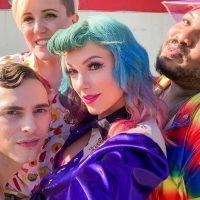 I mean just from the lyrics alone, the whole song is about letting people live their lives, without "stepping on their gown." The music video features a TON of people from the LGBT+ community, and a large number of allies! Let's go down the list here, there's A'keria Davenport and Adore Delano, who are both drag queens,
Adam Lambert, Billy Porter, Adam Rippon, and Bobby Berk, who are all openly gay
Antoni Porowski, a queer actor,
And that's just the first two letters of the alphabet.
It's awesome to be able to see all these incredible people all teaming up with Taylor and showing that this is more than just a popular person coming in and pretending to care about Pride, just because it's June (which happens way more than you'd think). Also everyone on set is clearly having a ton of fun, and it's just a joy to watch. 10/10, great music video.