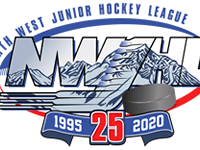 It was a big weekend in the NWJHL as all six teams took part in the league showcase in Grande Prairie.
As part of the showcase an All-Star Game took place on Friday night. Team South won 7-6 over Team North.
Six players from the Navigators played on the North team, Dawson Briscoe, Theo Cunningham, Jonathon Noskey, Chaston Paul, Phoenix Dumas and Ryan Noble.
NORTH PEACE NAVIGATORS
The Navs went two-for-two on the weekend, winning 7-2 over Dawson Creek on Saturday and 2-1 over Grande Prairie on Sunday.
Their record is now 10-4-1 for 21 points, one point back of Fort St. John for first place in the league standings.
The Navs and Huskies will play a two game set in Fort St. John this weekend.
FAIRVIEW FLYERS
Right behind the Navs and Huskies in the league standings are the Flyers.
They got an 11-4 win over Sexsmith on Wednesday before heading down to the showcase, where they got a 3-1 win over Grande Prairie on Saturday before losing 8-1 to Fort St. John on Sunday.
This week will see the Flyers play a home-and-home set with the Dawson Creek Canucks.
SEXSMITH VIPERS
The Sexsmith Vipers continue to struggle in the 2019-20 season.
They followed their 11-4 loss in Fairview on Wednesday, with a 9-2 loss to Fort St. John and a 10-2 loss to Dawson Creek.
One game for them this week, a home game on Saturday against Grande Prairie.
GRANDE PRAIRIE KINGS
The home-ice advantage didn't help the Kings at the showcase.
They lost both of their games, 3-1 to Fairview and 2-1 to North Peace.
They will be in Sexsmith on Saturday in a match-up of the two worst teams in the League.
DAWSON CREEK CANUCKS
The Canucks managed a split of their two weekend games.
They lost 7-2 to North Peace, but rebounded for a 10-2 win over Sexsmith.
Dawson Creek is tied for third place with Fairview, with the two teams playing a home-and-home this weekend.
FORT ST. JOHN HUSKIES
The Huskies are still hanging on to first place.
They got a pair of convincing wins over the weekend, 9-2 over Sexsmith and 8-1 over Fairview.
Fort St. John has a one point lead over the Navigators for first place, with the two teams playing a two game series this weekend in Fort St. John.
– Kyle Moore, Trending 55 Newsroom.