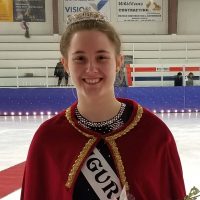 Kelsey Coulter has been named the Tim Horton's Athlete of the Month for the month of May.
Figure Skater Kelsey Coulter was crowned the 2019 Carnival Queen at the Manning Figure Skating Club's annual Figure Skating Carnival, which took place March 13th.
Kelsey is currently sixteen years old and a student at Paul Rowe Senior High School, and has grown up her entire life in the Peace Region while currently residing in Manning.
When asked about her performance at the recent Figure Skating Carnival, Kelsey says a lot of preparation was put in, and credits a lot of her success to her coaches.
"First we were assigned our songs, and then we had to find a way to bring the theme out." said the Carnival Queen in conversation with Trending 55 News. "Group numbers especially take hours of practice."
During the intermission of the 2019 Figure Skating Carnival, Kelsey would be presented the 2019 crown by last year's Queen Ashlyn Hunter.
This year's annual event would take on an international theme, with skaters from PreCanSkate, CanSkate and StarSkate preforming twenty-three unique routines during the night. It was also said that over 150 residents were in attendance for the event, with Kelsey also being featured in the final routine of the evening.
Kelsey is currently in her 12th year of Figure Skating, and says she has no plans on slowing down. She also adds that competing, as well as being with her friends, are her favourite parts of the sport.
"I want to continue to get Gold in all of my competitions, but when I graduate I do plan to continue skating." said Coulter.
Congratulations, Kelsey!
–Alex Rodgerson, Trending 55 News