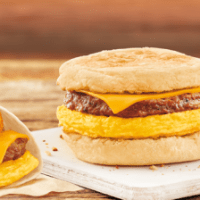 Tim Hortons is jumping on the Beyond Meat Bandwagon and as a vegetarian, and breakfast food lover, I am here for it. The chain is testing breakfast sandwiches and wraps using meatless sausage produced by Beyond Meat Inc. The test will start at 60 restaurants around the Toronto area and if it shows there's demand for the Beyond Meat products, Tim Hortons will launch a Beyond Meat breakfast sandwich and Beyond Meat Farmers Wrap across the country by summer's end.
The announcement comes just a couple months after A&W launched it's own Beyond Meat breakfast sandwich. They experienced high sales of the Beyond Meat burger they had previously added to the menu.
Tim Hortons reps say they have been working with Beyond Meat for close to a year to get the product on their menus.
I have been waiting a long time for more fast food chains to offer vegetarian/vegan friendly options. It's 'bout damn time.