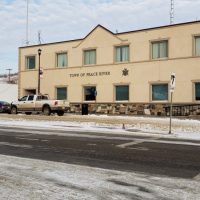 Today the Town of Peace River has announced crews working on the new bridge will be recovering the overturned piledriver near the Highway 2 on-ramp which will result in some traffic disruptions tonight.
The Town says the off-ramp will be used for traffic getting on the westbound lanes of Highway 2. Traffic on the westbound lane exiting into downtown will have to drive across the river, turn around at Shaftesbury, come back over the bridge and exit onto 100 Street. Large trucks will have to head up the east hill and turn around near the Northern Sunrise County offices to access the westbound lanes. The on-ramp will be closed while a crane recovers the piledriver.
The work will begin at 8 pm and is expected to finish up by 6 am.