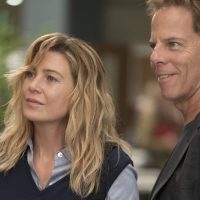 Your Thursday Night Lineup includes the one and only Grey's Anatomy – entering season 15.
Also, after the Monday premiere, Big Bang Theory & Young Sheldon will be moving to Thursday.
It's a few shows lighter because of Thursday Night Football, but there are still plenty of highly watched Comedies and dramas,
Check out all the previews below, including the NEW SHOWS at the bottom!
Grey's Anatomy Season 15
Sandra Oh!
How to Get Away with Murder is back for Season 5
The Good Place Season 3 sneak peek has a pretty crazy twist!
Law & Order SVU enters Season 20!
Mom – Season 6
S.W.A.T. Season 2
Superstore Season 4
Take a look back at Season 1 of Station 19!
Star Power is out in full force when Will & Grace returns!
Supernatural Season 14!
NEW SHOWS!
Legacies starts on October 25th on The CW. It's a spin-off to The Vampire Diaries.
Murphy Brown is Back!
I Feel Bad