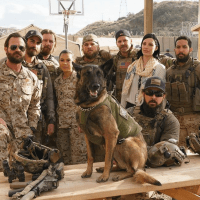 Wednesday's Lineup includes a show that is entering it's 37th season.  I've watched every single episode from the beginning.
It also features a kids comic book turned drama that a lot of people rave about, One of the longest running comedies, and a few new shows.
Check out all the previews, promos, and sneak peaks below!
Survivor – David vs Goliath
Modern Family will be losing a major character this season…
Riverdale is back for Season 3!  I stopped watching it a couple episodes into the first season.
Lots of people tell me that's a mistake…
Seal Team Season 2
The Seal Team Dog is awesome!
Chicago Med, Fire, & P.D. are all part of your Wednesdays
Empire Season 5
Criminal Minds – Season 14 Preview
The Goldbergs Season 6
American Housewife Season 3
STAR – season 3
NEW SHOWS!
Single Parents is a new comedy on after Modern Family on ABC.
Check out the sneak peek and the cast discussing what to expect.
Another new show is the Drama… A Million Little Things
The CW is adding a Football Show in October – All American