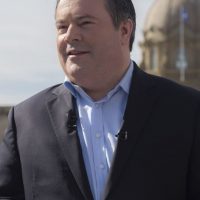 UCP leader Jason Kenney said in an interview earlier today with Trending 55's Alex Rodgerson that the current time it takes to get a well approved for the oil sands is "ridiculous" and is part of the reason Alberta has lost so much money and jobs. Comparing the sands to Texas Kenney said "you can get a conventional well approved in Texas in as short of a week and it's taking 12-18 months in Alberta."
Kenney has come under fire from all front's recently, with the recent rent accusations in Calgary by an ex Liberal candidate and the party being referred to by the NDP as "sewer rats" and a "bigot" by Deputy Premier Sarah Hoffman and Premier  Rachel Notley.
Kenney will be at the Channico Machine and Millwright Shop at 4pm today with Peace River's Candidate Dan Williams answering any questions the public might have. Tomorrow Kenney will be in High Level and La Crête.