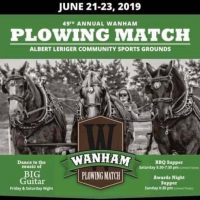 Hey it's Erika! The past week was full of fun events and I was able to meet lots of new people! Things are only getting busier as summer is quickly approaching; officially this Friday! Speaking of the weekend, there are lots of events going on around the region and you can join in on the activities!
Here's where I will be going this weekend:
Friday
– Treaty 8 Commemorative Ceremony in Riverfront Park at 1pm
– 49th Annual Wanham Plowing Match; Plowing competitions, heavy horse events, barrel racing, showjumping, pole, slo-pitch tournament, lawn tractor and monster truck races and much more! Go to wanhamplowingmatch.com for all information.
Saturday
– 41st Annual North Country Fair in Driftpile! There's a folk festival, solstice celebration and live music all weekend long! You can go to their website for all the ticket prices, FAQ's and this year's line-up!
Sunday
– Harmon Valley Rodeo; starts at noon on Sunday. Go to this website for all the details!
– 16th Annual Peace River Pow-Wow at the Peace River Ag Grounds starting at 1pm!
– Peace Regional Pool's 30th Birthday! A totally tubular 80's themed swim from 1:30pm-5:30pm, FREE SWIM!
If you want to know where I'm heading for the rest of the summer stayed tuned to more updates!