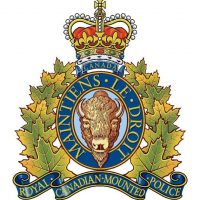 In the early morning of November 9th, there was a break and enter at the Scotiabank in Valleyview. It's believed that the suspects stole a front end loader from a local business in Valleyview and crashed it into the back of the Scotiabank. A second suspect vehicle was involved and is described as a grey Chevrolet/GMC style 4 door pick up truck. The vehicle appeared to have a light bar attached to the front.
It's believed that the suspects stole the front loader from a business on 39th Avenue in Valleyview. They then turned North on Highway 49 West on Township Road 704, then south on Range Road 223/ 50th Street.
Valleyview RCMP are asking the public for any surveillance footage of both the free loader and the truck driving along this route between 3:30 am and 5:30 am.