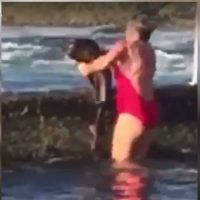 Like it's nothing…
Melissa Hatheier, a real estate agent from Sydney, Australia. She regularly surfs and found a shark was stuck in a rock pool. She swam after it and then lifted the child sized shark and tossed it back into the ocean… because Australia?
Honestly thought, that's incredibly brave.
You can check out the video of her picking up the shark and her interview with Australia's The Today Show below.
Meet Karl's woman of the day… Shark Wrangler Melissa wasn't too phased by the whole experience. #9Today pic.twitter.com/hTWulnEWyy

— The Today Show (@TheTodayShow) October 10, 2017