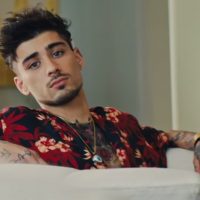 It's been over two years since Zayn came out with his debut album, Mind of Mine. And now, he is dropping new music for an upcoming yet to be titled sophomore album. This is a sequel to his music video for 'Dusk to Dawn' featuring Sia. This music video has a Miami Vice vibe to it… and features Steven Bauer (Scarface) as a Kingpin and Sofia Jamora as the Mystery Woman. It was developed with director, Jose Padilha. (Narcos ) It is also 'to be continued' which means we can look forward to seeing more this saga.
This song was produced by Zayn and MYKL (the same production team that worked with the singer on Pillowtalk) and it was written and recorded at Jimi Hendrix's iconic Electric Lady Studios in New York.
What do you think of the song and video?