Hey I get it. You're physically distancing right now which means you're working at home, chillin with the cat, and pretending you're not totally sick of rewatching RuPaul's Drag Race. We're all in the same boat. So why not try getting into one of those podcast thingies everyone seems to be on about these days. You got something better to do? Then allow me to show you some of my favourites:
The basics:
If you've never listened to a podcast before, you should probably start here.
Serial (season 1): You should definitely start here. Season 1 of serial is one of the most influential podcasts of all time, and you'd be doing yourself a disservice for skipping it. Summary: A high-school senior named Hae Min Lee disappeared one day after school in 1999, in Baltimore County, Maryland. A month later, her body was found in a city park. She'd been strangled. Her 17-year-old ex-boyfriend, Adnan Syed, was arrested for the crime, and within a year, he was sentenced to life in prison. Sarah Koenig dives deep into this murder case from 1999 and discovers the story is a lot more complicated than it seems.
This American Life: It's a radio show which has been on for like 25 years now. They cover all kinds of stories. Big stories. Small stories. It's something great every week. There is like a million episodes tho, so just pick a place to start and go. You're not missing anything by not starting at EP 1. I HIGHLY recommend episode 667: Wartime radio. I cried during the first half on my way to work, then cried again on my way home for the second half. I also highly recommend this episode:
I know. This one is a video. They aren't normally videos, don't panic! But this one is, and Lin-Manuel Miranda does an absolutely amazing musical number version of their radio episode '21 Chump Street'.
Slightly Less basic (but still pretty chill):
If you have listened to podcasts, well maybe you haven't heard some of my favourites, so now is the bit where I tell you about those
Everything Is Stories: This is a super cool series of extremely high quality stories. They're all very very good. GO LISTEN TO EPISODE SEVEN 'Current with the past'. Every single step of that story is wild. You think you know where its going to go, but I promise you don't. Seriously, go listen to Everything Is Stories: 007, current with the past http://www.eisradio.org/item/007/
99% Invisible: Have you ever wondered why Toronto has weird garbage bins? Have you ever wondered what the deal with plastic straws is? No? Well you WILL after you listen to 99pi. It's a podcast which seeks to explore the designed world. You can start anywhere with this one. Every episode is good. (side note: they have a spinoff podcast called Articles Of Interest which explores the history and meaning behind the clothes we wear and it's VERY good too)
Kinda out there:
Welcome to Nightvale: Welcome to Nightvale is really popular so you might already know the name. It was also instrumental in the success of podcasts in the early 10's for reasons I'm not totally aware of? But what does matter is that it's cool. It's purposefully weird. Listen to the first episode and you'll see what I mean. Then you'll either love it or hate it. Fun fact: This was the first podcast I ever listened to, and I started it because a girl I had a big crush on told me she liked it.
Here Be Monsters: Fun fact: this was the second podcast I ever listened to. Guess I jumped from weird one to weird one. I would describe it as being like the world's weirdest variety show. The common thread being 'A podcast about the unknown'. Every episode is different, and weird, and beautifully produced. It's the only podcast I have merch from.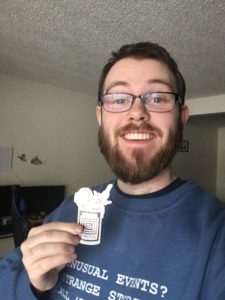 And that's where I'll leave it for now! Let me know what you think, or if you have recommendations for me.
P.S: Personally, I really hate the "dudes at coffee tables talking about stuff" genre. So I avoid it like the plague. But if you want to hear some random dudes have a conversation, the premier in the format is obviously Joe Rogan. I can't in good faith recommend this podcast but everyone else says they like it so whatever go ham)